Hello, Neighbors!

Welcome Friends of Greater Port Jefferson, Inc., DBA Welcome Friends:
After over 27 years serving the greater Port Jefferson area, the leaders and volunteers of Port Jefferson's Soup Kitchen are excited to announce their decision to become an independent Not-for-Profit corporation, named "Welcome Friends". The operation has become self-sustaining with a solid foundation of local community support…
Due to Covid-19 Welcome Friends has had to change their objective of how they help feed the hungry. Because of social distancing rules and closure of the Churches/Kitchens at this time, the organization is focusing on securing meals from neighboring restaurants, both by donation and by purchasing prepared meals. We are trying to continue providing meals 5 days a week. We have 200 volunteers that are working hard to continue to provide meals for the hungry.
Our goal is to continue feeding every needy person in our neighborhoods. Please feel free to contact us for the schedules or any other questions you might have.
Donations are always needed and welcome but are especially critical at this time because of our need to purchase prepared foods instead of cost effectively making meals in our kitchens.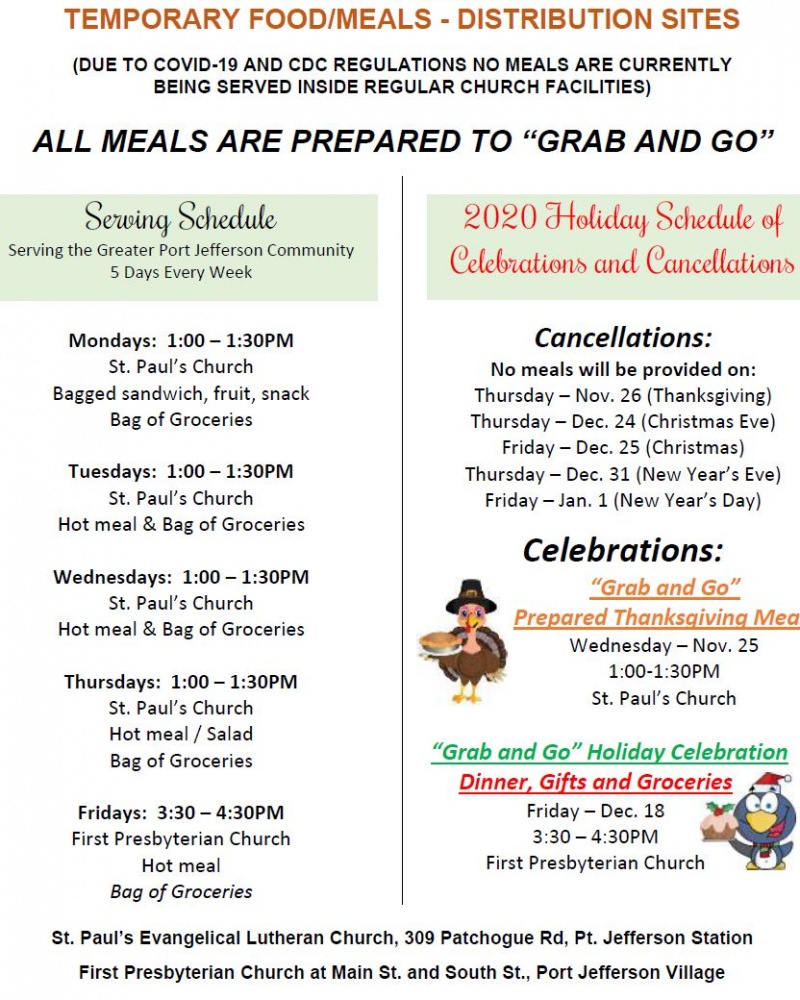 Monday  1:00 – 1:30PM
St. Paul's Church*
Bagged sandwich, fruit, snack to go
Tuesday  1:00 – 1:30PM
St. Paul's Church
Hot meal to go
Wednesday  1:00 – 1:30PM
St. Paul's
Hot meal to go
Thursday  1:00 – 1:30PM
St. Paul's
Hot meal to go / Salad
Friday –  3:30 – 4:30PM
First Presbyterian Church**
Hot meal, bag of groceries to go
*St. Paul's is located at 309 Patchogue Rd, Port Jefferson Station
**First Presbyterian is located at corner of Main St. and South St., Port Jefferson Village.