Thank you First Presbyterian's
We're happy to report that First Presbyterian's Board has approved the use of their kitchen on Wednesday mornings to cook the meal for distribution at St Paul's Church at 1:00 on on Wednesdays. It's such a pleasure to work with a Pastor and Board that "gets" our mission and is willing to continue to work with us during this difficult time!
Y
Every Wednesday our cooks are busy preparing delicious, appetizing meals to distribute.  This past week oven-baked chicken with a tangy glaze was prepared over cranberry, onion and apple rice pilaf.  Oven-roasted corn & green peppers accompanied the meal alongside a mixed salad of green beans, tomatoes & feta cheese.   Chilled peaches provided a cool dessert to end the meal.
Welcome to our two new volunteers :   Joanne and Sheila.
Our cooks are busy every week creating delicious, nutritious meals to distribute outdoors as grab & go. All CDC and county health requirements are stringently followed. Recently they prepared a Thanksgiving in July meal, complete with roast turkey, stuffing, and side dishes.
Below are photos of one of their latest creations: baked sticky chicken glazed with dijon strawberry jam and spices; rice pilaf with walnuts, cranberries, and fresh apples; corn.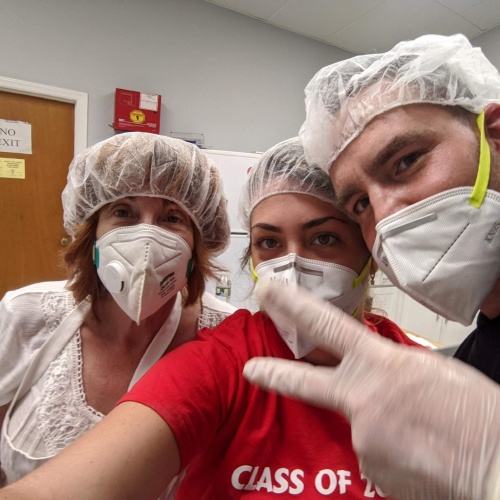 Our cooks creativity and use of various herbs and spices is apparent in these photos —Turkey & Sausage Meatloaf smothered in a special sauce, Mashed Potatoes accompanied by sautéed fresh veggies – spinach, mushrooms & red onions.
With the help of a couple of our volunteers, Jim and Betty, pictured below, completed meals are assembled and packed for delivery to St. Paul's.