Our Friday night kitchen was interviewed this Friday by Hometown Hope of Port Jefferson. The East Main & Main Donut Shop donated delicious donuts to our volunteers to thank us for what we do. (Raise the volume so you can hear the interview.) Click here to see video
Student Project Results in Large Donation to Welcome Friends
On February 17, 2021, Ward Melville High School students delivered over 1,200 hygiene
supplies to the Welcome Friends Soup Kitchen of Greater Port Jefferson. The volunteer
project, titled Mission: Toothbrush, led by Mikaeel Zohair involved several donation drives
held within the Three Village School District over the past year. The goal of Mission:
Toothbrush is to promote the importance of dental hygiene by providing people who lack
the ability to obtain dental and other hygiene products with the necessary supplies. Items
such as toothbrushes, toothpaste, dental floss, mouthwash, shaving cream and diapers will
go directly to people in need in our area. Supporting Mikaeel were students Claire Yang,
Riya Sangwan, Neil Mehta and Jean Chung.
After researching local organizations, Mikaeel contacted the Welcome Friends volunteer
coordinator to determine whether they would be interested in receiving the donations. One
of the kitchen coordinators responded to Mikaeel's offer and a meeting was arranged to
receive the boxes of supplies. Mikaeel said that he loved the Welcome Friends mission – to
provide hot, nutritious meals five days a week to those in need in the greater Port Jefferson
area. Our coordinator was also very impressed stating, "These students are aware of how
many individuals don't have access to these types of products and are willing to give their
time and effort to organize various drives at their school and in the community. These
actions are making a difference in the lives of people less fortunate and the students are an
inspiration to us all!"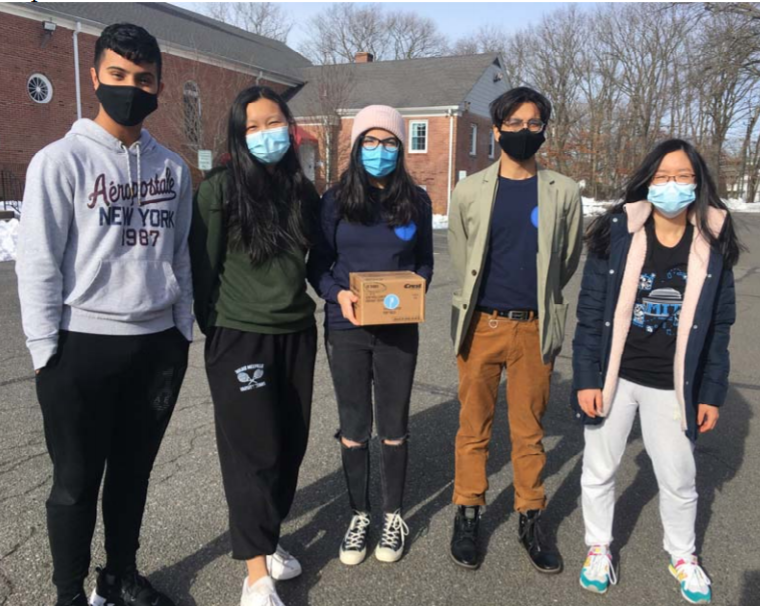 Pictured from left to right, students Mikaeel Zohair, Claire Yang, Riya Sangwan, Neil Mehta
and Jean Chung.
Thank you First Presbyterian's
We're happy to report that First Presbyterian's Board has approved the use of their kitchen on Wednesday mornings to cook the meal for distribution at St Paul's Church at 1:00 on on Wednesdays. It's such a pleasure to work with a Pastor and Board that "gets" our mission and is willing to continue to work with us during this difficult time!
Y
Every Wednesday our cooks are busy preparing delicious, appetizing meals to distribute.  This past week oven-baked chicken with a tangy glaze was prepared over cranberry, onion and apple rice pilaf.  Oven-roasted corn & green peppers accompanied the meal alongside a mixed salad of green beans, tomatoes & feta cheese.   Chilled peaches provided a cool dessert to end the meal.
Welcome to our two new volunteers :   Joanne and Sheila.
Our cooks are busy every week creating delicious, nutritious meals to distribute outdoors as grab & go. All CDC and county health requirements are stringently followed. Recently they prepared a Thanksgiving in July meal, complete with roast turkey, stuffing, and side dishes.
Below are photos of one of their latest creations: baked sticky chicken glazed with dijon strawberry jam and spices; rice pilaf with walnuts, cranberries, and fresh apples; corn.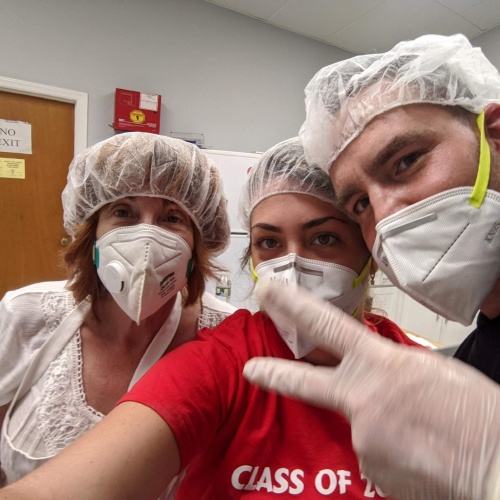 Our cooks creativity and use of various herbs and spices is apparent in these photos —Turkey & Sausage Meatloaf smothered in a special sauce, Mashed Potatoes accompanied by sautéed fresh veggies – spinach, mushrooms & red onions.
With the help of a couple of our volunteers, Jim and Betty, pictured below, completed meals are assembled and packed for delivery to St. Paul's.